Twin Lake Chemical has a team of scientists and engineers capable of designing and creating processes for the chlorination of different chemicals. We have the ability to set up these processes as bench scale operations in the lab, and we can scale up to the production volume needed in the manufacturing facility. Because we have the resource of our own on-site phosgene production facility, we are capable of 'phosgenating' different acids on custom orders. We also have bulk storage for thionyl chloride and phosphorus trichloride, from which a variety of reaction pathways can be considered.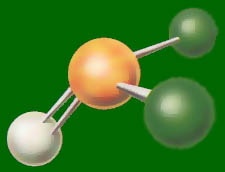 Phosgene
J.H. Products, a subsidiary of Twin Lake Chemical, supplies on-site phosgene production. Chlorine is reacted with carbon monoxide to yield phosgene as the final product. Bulk volumes of chlorine are shipped in by railcar, and the carbon monoxide is delivered in gaseous form via high pressure tube trailers. With a good support staff and expandible production capabilities, J.H. Products provides high-quality, inexpensive phosgene as a primary raw material. At this time, all of the phosgene produced by J.H. Products is for use by Twin Lake Chemical.
Twin Lake Chemical currently manufactures approximately two million pounds of these specialty chemicals annually. Acid chlorides are chemical intermediates used in a diversity of final products. They are widely used in the plastics and polymers industries. They are key ingredients in special fire retardant materials. The pulp and paper industries have special uses for these chemicals. They are also used in the production of pesticides. Applications of acid chlorides extend into the pharmaceutical industry. Even the cosmetics industry is researching new and different uses.
Our final products are filled into a variety of containers ranging in size from single gallon bottles to bulk tank trailers. A few of these products remain in the liquid phase, but several are solids at room temperature. These need to be heated and kept at temperatures above the melting points to be processed. We are also capable of filling orders in any package size to meet your needs.